Top Mobile App Development Companies
Your search for top mobile app development companies ends at AppFirmsReview. The platform provides a well-curated and extensive list of top app development companies that holds experience in developing mobile applications for iOS, Android, cross-platform and for the latest technologies like AI, VR, IoT, Wearable, etc. We have curated a bunch of companies based on the best reviews, client lists, ratings, portfolios, etc, and presented them in the leading orders. Since there are several mobile app development and software development companies listed in diverse directories, it is quite a tough task to bring out the top 10, but AppFirmsReview is the prominent research and review platform that broadcast the list of top app development companies. Choosing the best from the leading mobile app developers listed can surely help to grow your business & AppFirmsReview is the best place to choose from.

Stfalcon 
AWARD-WINNING MOBILE / WEB DEVELOPMENT COMPANY
★ 4.9 (0 Reviews)
Stfalcon in Ukraine was established in 2009, and the company has had several awards since then, proving its continuous growth in the android app development sector. The company has strong expertise in Fintech, blockchain, crypto, transportation, logistics, automation, and the medical field. Stafalcon is known for delivering their service to one of the largest german bus tickets operators with their dedicated team of highly skilled professionals.
---
Top clients: MeinFernbus (now Flixbus), Credit Agricole, Angel Trains
Employees: 50 - 249
Hourly Rates: $25-$49
Min. Project amount: $10,000+
Country: Ukraine

Techahead
Secure, Scalable, Human-centric Experiences
★ 4.8 (0 Reviews)
Techahead has been contributing to the android app development market since 2009. Brands like American Express, Audi, and Disney have chosen the company to solve their digital problems. Techahead has a structured process of discovery, design, development, and testing. In the 12+ years, the company has delivered successful 2000+ apps for their clients all around the world, providing futuristic technology.
---
Top clients: AXA, Allianz, American Express, Disney, AUDI
Employees: 50 - 249
Hourly Rates: $10-$25
Min. Project amount: $25,000+
Country: USA

Techugo
Think Innovation, Think Us!
★ 4.6 (0 Reviews)
We think big, design smart and develop fast. We create bespoke mobile solutions by evaluating the business aspect of each mobile endeavour and maximizing its potential through Discovery and Digital Innovation. Our extensive forte gained in Android and iOS platform development has made us a reliable partner for both
---
Top clients: Trailblazer, BMF, Dhanuka, Airtel, Browzly
Employees: 50-249
Hourly Rates: $25-$49/
Min. Project amount: $10,000+
Country: India

Uptech
Apps for bold ideas Mobile & Web Development
★ 4.9 (0 Reviews)
Uptech is known for delivering bold ideas in the iOS app development market. The company follows a one-stop product development studio where clients get every digital solution they desire for their success. Since 2016, the company has gathered much experience in the app development market, making them experts in working with every sector. From small startups to business tycoons, the company fits its ideas with unique approaches.
---
Top clients: Nilever(DSC), Drone Base, Aspiration, Yaza, Ripkord.tv
Employees: 50-249
Hourly Rates: $50-$99
Min. Project amount: $25,000+
Country: Ukraine

Utility
AWARD-WINNING MOBILE DESIGN & DEVELOPMENT AGENCY
★ 4.7 (0 Reviews)
Presenting one more trusted software development service provider. Utility is one of the top digital solution providers that is specializes in crafting custom mobile applications and web software with innovative partners, from startup ventures to Fortune hundreds of brands. Founded by digital leaders from companies like Major League Baseball and McCann Erickson, company runs with the team of experts. Specialized in iOS, Android and other latest technologies, company serves across all industries domains.
---
Top clients: Airbnb, Samsung, Verizon, DirecTV, Target, UrLife, SirenMD, dearduck, UrLife, SirenMD, dearduck
Employees: 50-249
Hourly Rates: $150-$199
Min. Project amount: $50,000+
Country: New York

Valere Labs
The right technology team changes everything
★ 4.6 (0 Reviews)
Valere Labs , one of the top-rated iOS app development agencies. It has built and delivered over 300 successful apps proving their success rate. Their clients approach them worldwide, and they also have a portfolio with Fortune 500 companies. Valere Labs develop both for individual entrepreneurs and B2B clients in diverse sectors like healthcare, finance, and more. Its experts always explore unique and error-free solutions to the client's problems and requirements.
---
Top clients: Elete Basketball, Food ID, Fly Virga
Employees: 50-249
Hourly Rates: $50-$99
Min. Project amount: $10,000+
Country: USA

Wolfpack Digital
Powerful web and mobile apps. Start-to-End
★ 4.8 (0 Reviews)
Wolfpack Digital is an awarded organization in Europe and believes in providing growth to the client. The company has a number of android applications with 50,000 user ratings with 4.6 average stars. TechCrunch awarded the company as one of the best app designing companies. Wolfpack believes in providing high-quality integrated systems with stunning visuals and speed delivery of overall quality packages to their clients all around the world.
---
Top clients: Musgrave, The Bosco, GoodBox, Banca Transilvania
Employees: 50 - 249
Hourly Rates: $50-$99
Min. Project amount: $15,000+
Country: Romania

You are launched
Launching Startups that get Success Stories
★ 4.9 (0 Reviews)
You are launched concentrates on providing a digital platform to the startups so that they can share their success stories. The company provides robust app development solutions by testing digital business ideas and providing them with a full product development life cycle. You are Launched fully-fledged with digital experts upbringing solutions for the complex problems and upscale clients innovation.
---
Top clients: Food fuel, Ecorial, Yogi Birth
Employees: 10-49
Hourly Rates: $25-$49
Min. Project amount: $10,000+
Country: Ukraine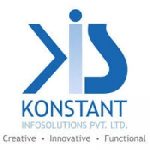 Konstant Infosolutions
Top Web & Mobile App Development Company
★ 4.8 (13 Reviews)
Konstant Infosolutions is a globally recognized mobile app development company. Known for offering the trendiest of solutions in various mobile categories, this firm comes up as a great blend of experience and agility for more than 18+ years now.
---
Top clients: Benjamin Shaw & Kyle Bradley, CEO / Co-founder, HouseME - Real Estate Company
Employees: 51 to 250
Hourly Rates: Up to $25
Min. Project amount: $5000-$10000
Country: USA, India, UK

Mobulous
Reliable Technology Partner for Startups & Enterprises
★ 4.6 (0 Reviews)
Mobulous is one of the fastest-growing mobile and website app development companies serving business solutions across the globe. In just 7+ years, the company has worked with almost all types of business organizations ranging from small startups to large scale businesses. Mobulous believes in incorporating robust AI-based algorithms and has a highly skilled team of 80+ experts in diverse fields.
---
Top clients: Honak, Rypro, ORRA, Hyundai
Employees: 50 - 249
Hourly Rates: $15-$25
Min. Project amount: $10,000+
Country: India
---
Frequently Asked Questions
As the term suggests, native mobile application development means the codes are written, operated, and deployed on a specific operating system. For instance, native Android app development is pure on Android coding, and so is iOS for Apple devices. Hybrid applications run on both platforms. Hence, in other words, a single code would work on both the platforms and devices.
The price or cost by mobile app development companies solely depends on the platform it is developed for, the complexity, the technologies to be integrated, the app developers' location, and the features and functionalities to be added to the mobile application. For a basic mobile app with just a couple of app screens, the cost of development will range from USD 10000 to 25000, an app's cost also changes from company to company. The app development firms can only provide a final figure once all the requirements are understood in detail.
There is a huge list of best app development companies in the world which we have put together here to make the hiring process easier for you. You can contact any of them and ask their expert business and technology consultants to discuss your business objectives. Once they listen to your ideas and concerns, they would get you a feasibility report and SOP. Based on those and other essential factors, app development can be kick-started.